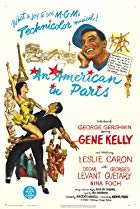 An American in Paris
Director: | Genre: Drama, Musical, Romance
Released: 1951 | Runtime: 114 min
Three friends struggle to find work in Paris. Things become more complicated when two of them fall in love with the same woman.
An American in Paris Quotes
[last lines]
Lise Bouvier: Jerry, don't let me leave you this way.

Andy McDermott: Great. Come to Paris and check out les drains.

Jerry Mulligan: Where is everyone?
Milo Roberts: Here.
Jerry Mulligan: Downstairs?
Milo Roberts: No, here in this room.
Jerry Mulligan: What about that extra girl?
Milo Roberts: That's me.