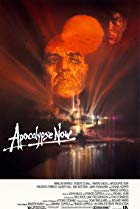 Apocalypse Now
Director: Francis Ford Coppola | Genre: Drama, War
Released: 1979 | Runtime: 147 min
During the Vietnam War, Captain Willard is sent on a dangerous mission into Cambodia to assassinate a renegade Colonel who has set himself up as a god among a local tribe.
Apocalypse Now Quotes
[ while flying in a helicopter with Air Cavalry soldiers ]
Chef : Why do all you guys sit on your helmets?
Soldier : So we don't get our balls blown off.

[ first lines ]
Willard : [ voiceover ] Saigon... shit; I'm still only in Saigon... Every time I think I'm gonna wake up back in the jungle.
Willard : When I was home after my first tour, it was worse. I'd wake up and there'd be nothing. I hardly said a word to my wife, until I said "yes" to a divorce. When I was home after my first tour, it was worse. [ grabs at flying insect ]
Willard : I'd wake up and there'd be nothing. I hardly said a word to my wife, until I said "yes" to a divorce. When I was here, I wanted to be there; when I was there, all I could think of was getting back into the jungle. I'm here a week now... waiting for a mission... getting softer. Every minute I stay in this room, I get weaker, and every minute Charlie squats in the bush, he gets stronger. Each time I looked around the walls moved in a little tighter.

Kurtz : I've seen horrors... horrors that you've seen. But you have no right to call me a murderer. You have a right to kill me. You have a right to do that... but you have no right to judge me. It's impossible for words to describe what is necessary to those who do not know what horror means. Horror... Horror has a face... and you must make a friend of horror. Horror and moral terror are your friends. If they are not, then they are enemies to be feared. They are truly enemies! I remember when I was with Special Forces... seems a thousand centuries ago. We went into a camp to inoculate some children. We left the camp after we had inoculated the children for polio, and this old man came running after us and he was crying. He couldn't see. We went back there, and they had come and hacked off every inoculated arm. There they were in a pile. A pile of little arms. And I remember... I... I... I cried, I wept like some grandmother. I wanted to tear my teeth out; I didn't know what I wanted to do! And I want to remember it. I never want to forget it... I never want to forget. And then I realized... like I was shot... like I was shot with a diamond... a diamond bullet right through my forehead. And I thought, my God... the genius of that! The genius! The will to do that! Perfect, genuine, complete, crystalline, pure. And then I realized they were stronger than we, because they could stand that these were not monsters, these were men... trained cadres. These men who fought with their hearts, who had families, who had children, who were filled with love... but they had the strength... the strength... to do that. If I had ten divisions of those men, our troubles here would be over very quickly. You have to have men who are moral... and at the same time who are able to utilize their primordial instincts to kill without feeling... without passion... without judgment... without judgment! Because it's judgment that defeats us.

[ last lines ]
Kurtz : [ voiceover ] The horror... the horror...

Lt. Col. Bill Kilgore: I love the smell of napalm in the morning!

Willard: Everyone gets everything he wants. I wanted a mission, and for my sins, they gave me one. Brought it up to me like room service. It was a real choice mission, and when it was over, I never wanted another.

Willard: On the river, I thought that the minute I looked at him, I'd know what to do, but it didn't happen. I was in there with him for days, not under guard, I was free, but he knew I wasn't going anywhere. He knew more about what I was going to do than I did. If the Generals back in Nha Trang could see what I saw, would they still want me to kill him? More than ever probably. And what would his people back home want if they ever learned just how far from them he'd really gone? He broke from them, and then he broke from himself. I'd never seen a man so broken up and ripped apart.

Willard: It's a way we had over here with living with ourselves. We cut 'em in half with a machine gun and give 'em a Band-Aid. It was a lie. And the more I saw them, the more I hated lies.

Willard: The crew were mostly kids. Rock & rollers with one foot in their grave.