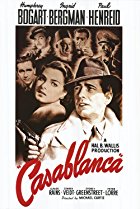 Casablanca
Director: Michael Curtiz | Genre: Drama, Romance, War
Released: 1942 | Runtime: 102 min
A cynical nightclub owner protects an old flame and her husband from Nazis in Morocco.
Casablanca Quotes
Captain Renault: What in heaven's name brought you to Casablanca?

Rick: My health. I came to Casablanca for the waters.

Captain Renault: The waters? What waters? We're in the desert.

Rick: I was misinformed.

Rick: You know what I want to hear.

Sam: [lying] No, I don't.

Rick: You played it for her, you can play it for me!

Sam: [lying] Well, I don't think I can remember...

Rick: If she can stand it, I can! Play it!


Rick: [looking over his own dossier which has been shown to him by Major Strasser] Are my eyes really brown?


Rick: I'm the only cause I'm interested in.


Rick: Alright, I'll make it easier for you: Go ahead and shoot. You'll be doing me a favor.

Ilsa: [to Rick] He is my husband. Was. Even when I knew you in Paris.

Rick: I don't like disturbances in my place.
[to the German officer]

Rick: Either lay off politics, or get out.


Ilsa: I wish I didn't love you so much.


Rick: You'll excuse me, gentlemen. Your business is politics, mine is running a saloon.