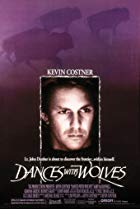 Dances with Wolves
Director: Kevin Costner | Genre: Adventure, Drama, Western
Released: 1990 | Runtime: 181 min
Lieutenant John Dunbar, assigned to a remote western Civil War outpost, befriends wolves and Indians, making him an intolerable aberration in the military.
Dances with Wolves Quotes
Ten Bears: You are the only white man I have ever known. I have thought about you a lot. More than you think. And I understand your concern. But I think you are wrong. The white man the soldiers are looking for no longer exists. Now there is only a Sioux named Dances With Wolves.

Timmons: [after he has bent over and farted] Why don't you put that in your book?

John Dunbar: I am Lieutenant John J. Dunbar and this is my post.

Major Fambrough: You wish to see the frontier?
John Dunbar: Yes sir, before it's gone.

Sgt. Bauer: Turned injun, didn't yeh.