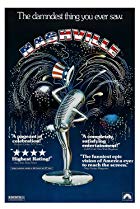 Nashville
Director: | Genre: Comedy, Drama, Music
Released: 1975 | Runtime: 160 min
Over the course of a few hectic days, numerous interrelated people prepare for a political convention as secrets and lies are surfaced and revealed.
Nashville Quotes
Opal: Oh, you've got a Hal Phillip Walker button. No, it's Kennedy. Isn't that rather ancient? Strange. I thought that everybody in the South didn't go for Kennedy.
Lady Pearl: It's John Fitzgerald Kennedy. Well, he, he took the whole South except for Tennessee, Florida, Kentucky. And there's a reason he didn't take Tennessee but he got 481,453 votes and the asshole got 556,577 votes...

Opal: [speaking into a micro recorder as she walks through a school bus parking lot] The buses! The buses are empty and look almost menacing, threatening, as so many yellow dragons watching me with their hollow, vacant eyes. I wonder how many little black and white children have yellow nightmares, their own special brand of fear for the yellow peril... Damn it, it's got to be more... positive. No, more negative! Start again. Yellow is the color of caution. No. Yellow is the color of cowardice. Yellow is the color of sunshine. And yet I see very little sunshine in the lives of all the little black and white children. I see their lives, rather, as a study in grayness, a mixture of black and... Oh, Christ, no. That's fascist. Yellow! Yellow, yellow, yellow. Yellow fever...

Albuquerque: Now, if we don't -- we don't live peaceful, there's gonna be nothin' left in our graves except Clorox bottles and plastic fly swatters with red dots on 'em.

Barbara Jean: [after singing a song] For Momma and Daddy.

Bill: You're supposed to wear the blue dress when I wear this.
Mary: I don't want to dress like twins anymore.
Bill: We're not twins. We're a trio.