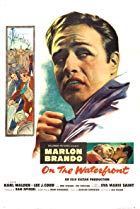 On the Waterfront
Director: Elia Kazan | Genre: Crime, Drama, Thriller
Released: 1954 | Runtime: 108 min
An ex-prize fighter turned longshoreman struggles to stand up to his corrupt union bosses.
On the Waterfront Quotes
[Terry returns to Johnny Friendly's bar after setting up Joey Doyle]
Charlie: So, how'd it go?
Terry: He up on the roof.
Charlie: The pigeon?
Terry: Uh, yeah, it worked.

Terry : You know, I seen you a lot of times before. Remember parochial school out on Paluski Street? Seven, eight years ago. Your hair, you had your hair uh...
Edie : Braids.
Terry : Looked like a hunk of rope. And you had wires on your teeth and glasses and everything. You was really a mess.

Father Barry : Some people think the Crucifixion only took place on Calvary. Well, they better wise up!

Father Barry : You want to know what's wrong with our waterfront? It's the love of a lousy buck. It's making love of a buck - -the cushy job - -more important than the love of man!

Terry Malloy: You don't understand! I coulda had class. I coulda been a contender. I could've been somebody, instead of a bum, which is what I am.[2]

Father Barry: You'd better get rid of that gun, unless you haven't got the guts, and if you don't, you'd better hang on to it!

Tall Priest: This Darth Vader costume's simply super.

The Flashing Blade: I told you before, I'm in love with Judith Chalmers.
The Flashing Bladess: [disappointed, yet emotionless] Lucky Judy.
The Flashing Blade: Yes, she is.

Terry: You know this city's full of hawks? That's a fact. They hang around on the top of the big hotels. And they spot a pigeon in the park. Right down on him.