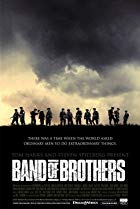 Band of Brothers
Genre: Action, Drama, History | Released: -2001
The story of Easy Company of the U.S. Army 101st Airborne Division, and their mission in World War II Europe, from Operation Overlord, through V-J Day.
Band of Brothers Quotes
Lipton: [narrating] Lieutenant Dike wasn't a bad leader because he made bad decisions. He was a bad leader because he made no decisions.


Compton: [After Hoobler accidentally shoots himself in the leg with a Luger pistol taken from a German officer] What the hell were you doing with a loaded gun in your pants?!
Hoobler: It just went off! ... It hurts like a son-of-a-bitch!


[while approaching Nuenen]
Webster: Vincent Van Gogh was born in Nuenen!
Cobb: Yeah? So what?
Hoobler: They sure teach you a lot of useful stuff at Harvard.


Sobel: [Addressing whole platoon.] You people are at the position of attention! [To Perconte] Private Perconte, have you been blousing your trousers over your boots like a paratrooper?
Perconte: No, sir.
Sobel: Then explain the creases at the bottom.
Perconte: No excuse, sir.
Sobel: Volunteering for the Parachute Infantry is one thing, Perconte, but you've got a long way to prove that you belong here. Your weekend pass is revoked. [moves on] Name?
Luz: Luz, George.
Sobel: Dirt in the rear sight aperture. Pass revoked. (walks over to another soldier) When did you sew on these Chevrons, Sergeant Lipton?
Lipton: Yesterday, sir.
Sobel: [displays a loose thread pulled from the stripe] Long enough to notice this - revoked.
Lipton: Sir. [Sobel walks over to another soldier.]
Sobel: Name.
Malarkey: Malarkey, Donald G!
Sobel: Malarkey is slang for "bullshit," isn't it? [Takes his rifle]
Malarkey: Yes, sir!
Sobel: Rust on the butt-plate hinge spring, Private Bullshit - revoked. [Tosses his rifle at Malarkey and moves on] Name.
Liebgott: Liebgott, Joseph, D, sir.
Sobel: Rusty bayonet, Liebgott. You want to kill Germans?
Liebgott: Yes, sir.
Sobel: [knocks his helmet with the bayonet] Not with this. [To the whole platoon] I will not take this rusty piece of shit to war, and I will not take you to war in your condition. [throws bayonet to the ground] Now thanks to these men and their infractions, every man in the company who had a weekend pass has lost it. Change into your PT gear. We're running Currahee.


[Lt. Speirs explains to Pvt. Blithe how to cope with fear]
Ronald Speirs: We're all scared. You hid in that ditch because you think there's still hope. But Blithe, the only hope you have is to accept the fact that you're already dead. And the sooner you accept that, the sooner you'll be able to function as a soldier is supposed to function. Without mercy. Without compassion. Without remorse. All war depends on it.

Donald Malarkey: [the men are going over Heffron and Spina's run-in with the German in the foxhole] He shoulda shot Hinkel in the ass.
Warren Muck: Then he woulda shot *him* in the ass. [the men start laughing]
Pvt. Edward 'Babe' Heffron: [Domingus comes around with stale pancakes and shovels them into everyone's mess tin] Hey, God bless ya.
Donald Malarkey: Joe, these smell like my armpit!
Warren Muck: [holding up one of the pancakes] At least your armpit's warm.
Joe Domingus: You want syrup with that?
Donald Malarkey: Joe, be honest, what's in these things anyway, huh?
Joe Domingus: Nothing you won't eat, Malarkey. [he walks away]
Pvt. Ralph Spina: I won't eat Malarkey. [they all start laughing again]
Pvt. John T. Julian: Hey, hey, maybe Hinkel would like your share, huh?
Pvt. Edward 'Babe' Heffron: I shoulda shot him when I had the chance.
Warren Muck: What, running backwards, Babe?
2nd Lt. Thomas Peacock: [Lt. Peacock walks up] Anybody seen Lieutenant Dike?
Donald Malarkey: Uh, try battalion CP, sir. [Peacock walks away, and the men start giggling once he is out of earshot]
Warren Muck: Try Paris.
Donald Malarkey: Try Hinkel. [they all crack up again]
Pvt. Ralph Spina: [Spina puts on a bad German accent and makes to hug Heffron] Hinkel, sveetie, I'm home!
Pvt. Edward 'Babe' Heffron: [Heffron turns to Doc Roe, who is sitting nearby] Hey Eugene, Lieutenant Dike's got a full aid kit, try him.
Donald Malarkey: Yeah

Frank Perconte: Hey Luz, how far are we going?
George Luz: Oh, Jesus, Frank, I don't know. Until they tell us to stop.
Donald Hoobler: High ground. There's high ground up ahead.
Frank Perconte: Okay, genius. Answer me this, then. How come Easy Company is the only company who's either at the front of an advance, or, like now, exposed at the far edge of the line?
Donald Hoobler: To keep you on your toes.
Frank Perconte: No, that's not what I'm saying. I'm saying, we're never in the middle. And we're the fifth of nine companies in this regiment. Able to Item. Think of it.

Liebgott: [on a convoy to Bavaria] It's gonna be good times, Web... When we get home I mean... First thing I'm gonna do is get my job back at the cab company in Frisco. Make a killing of all those ****ing sailors coming home, you know? Then I'm gonna find me a nice Jewish girl, with great big soft titties and a smile to die for. Marry her. Then I'm gonna buy a house... A big house, with lots of bedrooms for all the little Liebgotts we're gonna be making.

Richard Winters: That night, I thanked God for seeing me through that day of days and prayed I would make it through D plus 1. I also promised that if some way I could get home again, I would find a nice peaceful town and spend the rest of my life in peace.