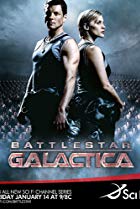 Battlestar Galactica
Genre: Action, Adventure, Drama | Released: 2004-2009
When an old enemy, the Cylons, resurface and obliterate the 12 colonies, the crew of the aged Galactica protect a small civilian fleet - the last of humanity - as they journey toward the fabled 13th colony, Earth.
Battlestar Galactica Quotes
Lieutenant Starbuck: Miri, when you get back to the Galactica, you'll have every viper pilot in the place battling it out over you. You'll drive them crazy.

Lt. Starbuck: We're all out of mushies, I'm sorry.
Cassiopeia: I don't mind, the protein's just fine.
Lt. Starbuck: [takes a sip of the protein] Ach, this stuff's only a yahren old.
Cassiopeia: Well, I think it has the right effect.
Lt. Starbuck: So I see.
PA announcer: Lieutenant Starbuck, report to Battlestar Galactica, flight deck blue.

Wolfe: We're not barge Lice.
Thane: Or grid rats.
Croft: Yes we are, we were picked for this drop because we're expendable.
Capt. Apollo: Nobody's expendable. Your here to do a job on the Cylons, not each other.

[about to go make out with his girlfriend in a fighter launch tube]
Starbuck: Lord, I'll do anything you ask tomorrow... just don't call an alert tonight!

Aaron Doral: [the Cylons cut through the doors to Ragnar Anchorage, and a crowd of humanoid Cylon copies walk through to find the Doral-copy Adama stranded there] We have to get out of this storm. The radiation affects our silica relays.
Leoben Conoy: Where did they go?
Aaron Doral: I don't know. They were prepared for a big jump.
Aaron Doral: [a second copy of Doral in the Cylon crowd] We can't let them go.
Number Six: Hmm, unfortunately I agree.
Leoben Conoy: [a second copy of Conoy] If we do, they'll return one day and take revenge
Number Six: [a second copy of Number Six] It's in their nature.
Aaron Doral: We have no choice.
Leoben Conoy: [a third copy of Conoy] It may take several decades to track them down.
Lt. Sharon 'Boomer' Valerii: [Boomer walks into the room. Boomer is a Cylon] Don't worry, we'll find them.
Number Six: By your command.

Apollo: [to Starbuck] You are beyond insane!

Baltar: So now you're telling me, um, now you're telling me you're a machine?
Number Six: I'm a woman.
Baltar: You're a machine. You're a synthetic woman, a robot.
Number Six: I've said it three times now.
Baltar: Well, forgive me, I'm having the tiniest little bit of trouble believing that because the last time anybody saw the Cylons they looked more like walking chrome toasters.
Number Six: Those models are still around. They have their uses.

Boomer: Just keep it up, old buddy, you're going to get us into real trouble.
Starbuck: Ten thousand light years from nowhere, our planet shot to pieces, people starving, and *I'm* gonna get us in trouble?

Cassiopeia: Apollo, what was this bubble used for?
Captain Apollo: It's a celestial chamber. The only one left on the Galactica. When the old girl was launched over 500 yahren ago, there were a number of these domes. Back then the, eh, navigators used to come up here and take star sightings, to sort of double-check the navigation computer. I doubt anyone's been here except us in a hundred yahren or more.