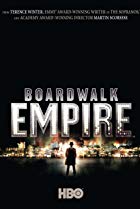 Boardwalk Empire
Genre: Crime, Drama, History | Released: 2010-2014
An Atlantic City, New Jersey politician plays both sides of the law, conspiring with gangsters during the Prohibition era.
Boardwalk Empire Quotes
Margaret Schroeder: Would you help me, Mr. Thompson? All I want is to provide for my children.
Nucky Thompson: I'd like to help you.
Margaret Schroeder: Then tell me what to do. What do you want from me?
Nucky Thompson: I want you to vote Republican.


Al Capone: What'll it be?
Corrigan: I'll take a whiskey and a statement on the record.


Johnny Torrio: [seeing Capone kicking Corrigan] What the fuck's going on?
Al Capone: I'm making a statement.


Nucky Thompson: What's motherfucker mean?
Eddie Kessler: I suppose it's a schvartze term.


Mrs. McGarry: Coward, monster, vicious brute. Friend to thief and prostitute conscious dulled by demon rum. Liquor, thy name's delirium.


Jimmy Darmody: You can't be half a gangster, Nucky. Not anymore.


Jimmy Darmody: Nucky, all I want is an opportunity.
Nucky Thompson: This is America, ain't it? Who the fuck's stopping you?


Nucky Thompson: Rest assured that dry though the country may be, I am in the midst of concluding arrangements that will keep Atlantic City wet as a mermaid's twat.
Mayor Harry Bacharach: Jeez, Nucky, you're fucking mermaids now?
Nucky Thompson: Every vote counts, Mr. Mayor.


William McCoy: And he took the loaves and fishes, looked at his disciples and said, 'Fuck it. We're going into the whiskey business'.