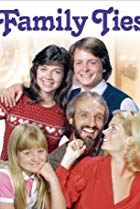 Family Ties
Genre: Comedy, Family | Released: 1982-1989
Chronicles liberal ex-hippies Steven and Elyse Keaton, their conservative son Alex, daughters Mallory and Jennifer, and later, youngest child Andrew.
Family Ties Quotes
Steven: [about Alex] I haven't seen him this excited since Reagan got elected.


Steven: [to Elyse] Do you think maybe he was switched at birth and the Rockefellers have our kid?


Elyse: Alex, maybe you're getting a little carried away here. I mean, if Kimberly doesn't like you or your family for who they are, then maybe she isn't worth caring about at all, don't you think?
Alex: Are you going to wear your hair like that, or are you going to put it up?


Mallory: [witnessing her parents kissing in the kitchen] You guys have been married for a long time. Haven't you had enough?


Alex P. Keaton: Mallory, someone stupid called... sometime today... about something trivial.
Mallory Keaton: Alex you know that could be any one of my friends.

Alex P. Keaton: Hey, I don't mind if I toot my own horn. Toot, toot!

Mallory Keaton: I shop, therefore I am.

Steven Keaton: I can't wait to try this Pasta Alex, Alex. [Speaks with womanly voice]
Alex P. Keaton: I love a man with a healthy appetite.

Steven Keaton: [walks into the kitchen] What's this?
Elyse Keaton: Andrew drew it. It's a picture of a dog. I told him that he couldn't have a dog because Malory is allergic to dogs.
Steven Keaton: What's this?
Elyse Keaton: It's a picture of Malory moving away.