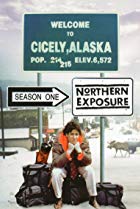 Northern Exposure
Genre: Comedy, Drama, Fantasy | Released: 1990-1995
A newly graduated doctor is required to set up his practice in an eccentric Alaskan town.
Northern Exposure Quotes
Joel: I don't don't like it - I hate it! And I demand to leave! … Well that is because you are not the one who is supposed to spend the next 4 years of his life in this Godforsaken hole in the wall, pigsty with a bunch of dirty, psychotic rednecks!


Maurice: When I heard we had a crack at a Jew doctor from New York City.. well, I don't have to tell you I jumped. You boys do outstanding work.


Joel: [to Maggie after a few beers] You're kinda pretty in a like, clean sort of way.


Chris: Months later as I sat in a juvenile detention home rereading those poems that had opened up the artist in me I was blindsided by the raging fist of my incarcerator who informed me that Walt Whitman's homoerotic unnatural pornographic sentiments were unacceptable and would not be allowed in an institution dedicated to reforming the ill formed.


Chris Stevens: I can see how that can be a problem. You know, it's like Jung says, The unconscious is revealed through the imagery of our dreams, which express our innermost fears and our desires.
Bernard Stevens: Jung said that?
Chris Stevens: Yeah, I think it was Jung. Or maybe Vincent Price.

Chris Stevens: There's a dark side to each and every human soul. We wish we were Obi-Wan Kenobi, and for the most part we are, but there's a little Darth Vader in all of us. Thing is, this ain't no either-or proposition. We're talking about dialectics, the good and the bad merging into us. You can run but you can't hide. My experience? Face the darkness. Stare it down. Own it. As brother Nietzsche said, being human is a complicated gig. So give that ol' dark night of the soul a hug. Howl the eternal yes!

Chris Stevens: Be open to your dreams, people. Embrace that distant shore. Because our mortal journey is over all too soon.

Maurice Minnifield: Tell him that Dr. Fleischman is the kind of enterprising, young professional who's chosen to stake his claim right here on the banks of the Alaskan Riviera.
Dr. Joel Fleischman: Tell him I'm being held against my will.

Shelly Tambo Vincoeur: And we're going to have this transitory cow fling thing right here in Cicely?