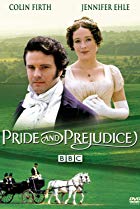 Pride and Prejudice
Genre: Drama, Romance | Released: -1995
While the arrival of wealthy gentlemen sends her marriage-minded mother into a frenzy, willful and opinionated Elizabeth Bennet matches wits with haughty Mr. Darcy.
Pride and Prejudice Quotes
Miss Bingley: I believe I can guess your thoughts at this moment.
Mr. Darcy: I should imagine not.
Miss Bingley: You are thinking how insupportable it would be to spend many evenings in such tedious company.
Mr. Darcy: No, indeed, my mind was more agreeably engaged. I've been meditating on the very great pleasure which a pair of fine eyes in the face of a pretty woman can bestow.
Miss Bingley: And may one dare ask whose the eyes that inspire these reflections?
Mr. Darcy: Miss Elizabeth Bennet's.
Miss Bingley: Miss Elizabeth Bennet. I am all astonishment.

Mr. Darcy: Yes, she looks tolerable enough, but I am in no humor tonight to give consequence to the middle classes at play.

Mr. Bingley: All young ladies are accomplished. They sing, they draw, they dance, speak French and German, cover screens and I know not what.
Mr. Darcy: But not half a dozen would satisfy my notion of an accomplished woman.
Miss Bingley: Oh, certainly. No woman can be really esteemed accomplished who does not also possess a certain something in her air, in her manner of walking, in the tone of her voice, her address and expressions.
Mr. Darcy: And to all this she must yet add something more substantial in the improvement of her mind by extensive reading.
Elizabeth Bennet: I'm no longer surprised at you knowing only six accomplished women, Mr Darcy. I rather wonder at your knowing any.

Mrs. Bennet: Have you no consideration for my poor nerves?
Mr. Bennet: You mistake me, my dear. I have the utmost respect for your nerves. They've been my constant companion these twenty years.

Mr. Darcy: How are you this evening, my dear?
Elizabeth Bennet: Very well. Only, I wish you would not call me my dear.
Mr. Darcy: Why?
Elizabeth Bennet: Because it's what my father calls my mother whenever he's cross about something.
Mr. Darcy: Well, what endearments am I allowed?
Elizabeth Bennet: Well, let me think...�Lizzie for everyday, my pearl for Sundays, and Goddess Divine, but only on special occasions.
Mr. Darcy: And what am I to call you when I'm cross? Mrs. Darcy?
Elizabeth Bennet: No, you may only call me Mrs. Darcy when you are completely, perfectly and incandescently happy.
Mr. Darcy: And how are you this evening... Mrs. Darcy? Mrs. Darcy... Mrs. Darcy... Mrs. Darcy! [kisses her]

Mr. Darcy: You must know... surely, you must know it was all for you. You are too generous to trifle with me. I believe you spoke with my aunt last night, and it has taught me to hope as I'd scarcely allowed myself before. If your feelings are still what they were last April, tell me so at once. My affections and wishes have not changed, but one word from you will silence me forever. If, however, your feelings have changed, I will have to tell you: you have bewitched me, body and soul, and I love, I love, I love you. I never wish to be parted from you from this day on.

Charlotte Lucas: Mr. Collins and I are engaged.
Elizabeth Bennet: Engaged?
Charlotte Lucas: Yes.
Elizabeth Bennet: To be married?
Charlotte Lucas: Yes, Lizzie, what other kind of engaged is there? Oh, for heaven's sake, Lizzie, don't look at me like that. There is no earthly reason why I shouldn't be as happy with him as any other.
Elizabeth Bennet: But he's ridiculous.
Charlotte Lucas: Oh hush Lizzie. I've been offered a comfortable home and protection. There's alot to be thankful for. So don't judge me Lizzie; don't you dare judge me!

Elizabeth Bennet: He had better have stayed home. Assistance is impossible and condolence insufferable. Let him triumph over us at a distance and be satisfied.

Elizabeth Bennet: [as she writes to Jane, Darcy suddenly enters] Mr.Darcy. [Darcy bows, Elizabeth stands and curtseys]
Elizabeth Bennet: Please, do be seated. [no reponse]
Elizabeth Bennet: [silence] Mr and Mrs Collins have gone to the village.
Mr. Darcy: [nods and looks around the room] This is a charming house. I believe my aunt did a great deal to it when Mr.Collins first arrived.
Elizabeth Bennet: I believe so. She could not have bestowed her kindness on a more grateful subject. [more silence, neither one of them know what to say]
Elizabeth Bennet: Shall I call for some tea?
Mr. Darcy: No, thank you. [a few brief more moments of silence]
Mr. Darcy: Good day, Miss Elizabeth, it's been a pleasure. [rushes out, passing by Charlotte]
Charlotte Lucas: [to Elizabeth] What have you done to poor Mr.Darcy?
Elizabeth Bennet: ...I have no idea.