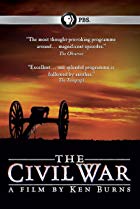 The Civil War
Genre: Documentary, History, War | Released: -1990
A comprehensive survey of the American Civil War.
The Civil War Quotes
Narrator: Secretary Of State William H. Seward hoped to replace Lincoln. Secretary of the Treasury Salmon P. Chase wanted to replace Seward. Mary Todd told her husband to get rid of both of them. Instead, Lincoln fired War Secretary Simon P. Cameron, a Pennsylvania boss so corrupt said Lincoln, "The only thing he wouldn't steal was a red hot stove."

[On his escape from slavery]
Frederick Douglass: I appear this evening as a thief and robber. I stole this head, these limbs, this body from my master and ran off with them.

Governor of Idaho: Politics is just another form of sex.

Mel Burgess: What are you getting unraveled for? We're inside, not outside!
NewsNet Assistant: You don't get it, do you, Mel? It's all outside now.

Mel Burgess: Stop with the college debate, will you? We're news, emotions happen outside!