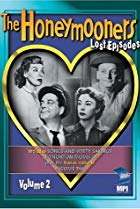 The Honeymooners
Genre: Comedy, Family | Released: 1955-1956
A bus driver and his sewer worker friend struggle to strike it rich while their wives look on with weary patience.
The Honeymooners Quotes
Ralph Kramden: Unlike most dogs, Eggy is a survivor. Like Seabiscuit,Rocky or Destiny's Child.

Ralph Kramden: Whatever happened to the sweet unspoiled girl I married before? Alice, you know what you said to me on the day we got married? "Ralph, I'd be happy to live in a tent with you."
Alice Kramden: I'm still willing. In fact, I think it'd be an improvement.
Ralph Kramden: Do you wanna go to the moon? Do you wanna go to the moon?
Alice Kramden: That would be an improvement, too.

Ralph: One of these days... One of these days... POW! Right in the kisser!

The Honeymooners: Baby, you're the greatest.

Alice: I'm the only girl in town with an atomic kitchen. This place looks like Yucca Flats after the blast!

Lt. Fergie Howard: Just because a fellow makes a small killing at roulette does not mean you have to stick your claws into him.

Mrs. Gibson: Look, Alice, just because you're married to a horse doesn't mean you have to live in a stable.