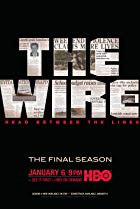 The Wire
Genre: Crime, Drama, Thriller | Released: 2002-2008
Baltimore drug scene, seen through the eyes of drug dealers and law enforcement.
The Wire Quotes
Witness: I saw only the one of them. He was black, big I thought. With a large weapon.
Bunk: BNBG.
Vernon: [laughing] Big Negro, Big Gun.


McNulty: [standing over Stringer's body, talking to Bunk] I caught him, Bunk. On the wire. I caught him. He doesn't fuckin' know it.


Squeak: You've got to be the stupidest motherfucker I've ever dated.
Bernard: [to crony] I can't wait to go to jail.


Lester: Remember when I was a cadet, I was up here on a cadaver search. Instructor gets on the radio to say "We're looking for one body in particular. If you go grabbing every one you see, we'll be here all day."


Det. James 'Jimmy' McNulty: Well, you know what they say: "stupid criminals make stupid cops". I'm proud to be chasing this guy.

Det. William 'Bunk' Moreland: [McNulty has trouble loading up the camera] Maybe you ought to set up an easel on the sidewalk and do a sketch instead.

Donette: Boy, don't nobody give a damn about you and your story. You got money, you get to be whatever you say you are. That's the way it is.

State's Atty. Ilene Nathan: Mr. Little, how does a man rob drug dealers for eight or nine years and live to tell about it?
Omar: Day at a time I suppose?

Troy Wiggins: He told me his name was Wendell O. O as in Oh, **** I tried to sell **** to an undercover officer.